Press Articles
Ms Divine on Belgium's Focus Knack magazine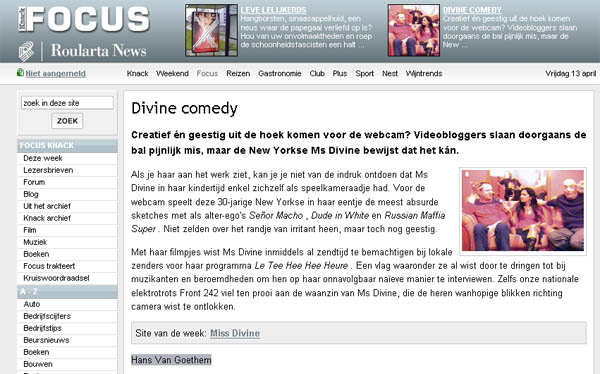 Click here to read the full article
Ms. Divine's Tee Hee Heure website was reviewed and featured as Focus Knack magazine's site of the week.
Knack is the news magazine of Dutch-speaking Belgium. It is the Belgian counterpart to international news magazines like Time and Newsweek.
Focus Knack is a the entertainment portion of the magazine with news from the world of art.

Below is a rough translation of the Dutch article:

To appear creative and funny in front of the webcam? Usually videobloggers miss the ball painfully, but Ms Divine from NY proves it its possible.

When you see her at work, you can't get rid of the idea that Ms Divine had only herself as playmate during childhood. In front of the webcam, this New Yorker of 30 years plays all by herself the most absurd sketches with alter-egos Senor Macho , Dude in White and Russian Maffia Super. Not rarely over the edge of irritating, but funny anyway.

Meanwhile with her short movies Ms Divine managed to gain some broadcast time at local stations for her show Le Tee Hee Hee Heure. Through this she already could get to musicians and celebrities to interview them in such a naive way nobody else could. Even our national electro pride Front 242 fell a prey to the madness of Ms Divine, which could draw some desperate glances from the gentlemen towards the camera.
This article, appears in print in the Focus Knack nr. 15 of 11/04/2007. (April 11th weekly issue) It is the magazine with Robert Dinero on the front cover. The article that features my site is on Page 93.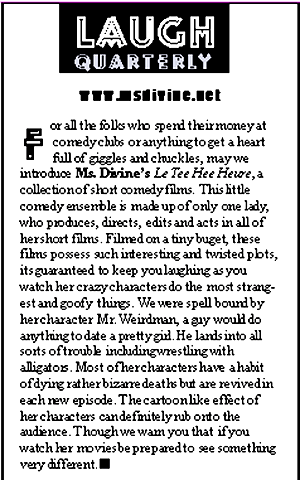 ---